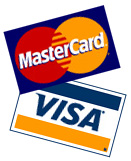 Payment Options
We understand the every company has its own way of doing business. This is never more evident than in how you choose to pay for our services. We're committed to doing business with you on the most favorable terms. Thus, we offer several options for payment.
When ordering, you can choose any of the following:
· Check or Money Order – Please ensure that all checks are made payable to Northern Arizona Appraisal.
· COD – Let us know that we can pick up payment when we deliver the final report.
· Net 30 – Frequent customers can arrange for payment terms by contacting our billing department. An engagement letter must be on file.
· PayPal – Online payments may be made through this internet service. Additional processing fees may apply.
More on Credit Card payments
Occasionally we receive orders for appraisal reports where payment is required in advance. Our company now accepts Visa, MasterCard and American Express credit card payments for any transaction via Pay Pal. This option can be used to pay for single appraisals, multiple orders or any of our other services.
How does it work?
Prior to scheduling the appraisal, an invoice is sent to the payee via Pay Pal. After payment has been received and confirmed and received we will proceed with the appraisal. A 5% Pay Pal service charge applies to all orders paid via Pay Pal.
Is it safe?
The Pay Pal web site is protected by industry-standard Secure Socket Layer (SSL) encryption. This means that every sensitive communication between your computer and our web server is scrambled. So if any payment data gets illegally intercepted, it's completely unreadable.
If you have any questions about paying for services with a credit card, or any other payment option, please give us a call or send us an e-mail message.
Home Status Report
Want to know if a home is still on the market, or if the price has changed? We can help. Simply fill out the information below and with no obligation to you we'll get back to you with your requested information. We guarantee your privacy.